Facial Eczema Risk Monitor
Vet Services weekly summary of spore counts monitoring the facial eczema risk to stock across the region 
No results over 15,000 across the region this week (17-23 April). 
Facial Eczema Spore count monitoring has now finished for the season. We would like to thank our monitor farms for collecting weekly samples and for their contribution to this data. 
If you have any concerns or would like to continue monitoring the risk in your area please get in touch with your local clinic.
Season Results from Waipukurau Monitor Farms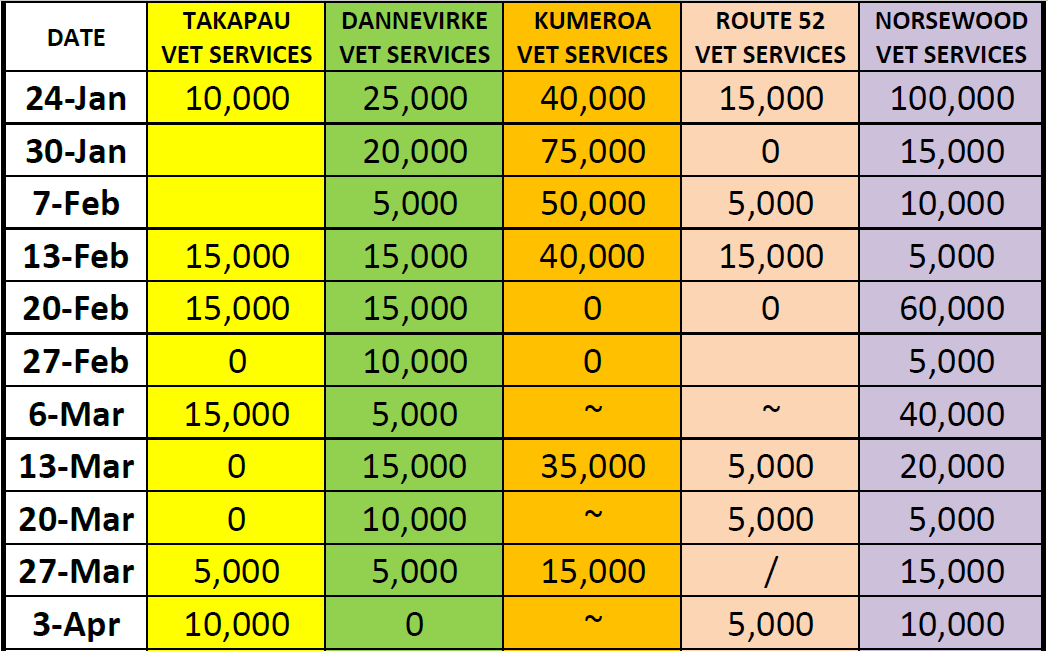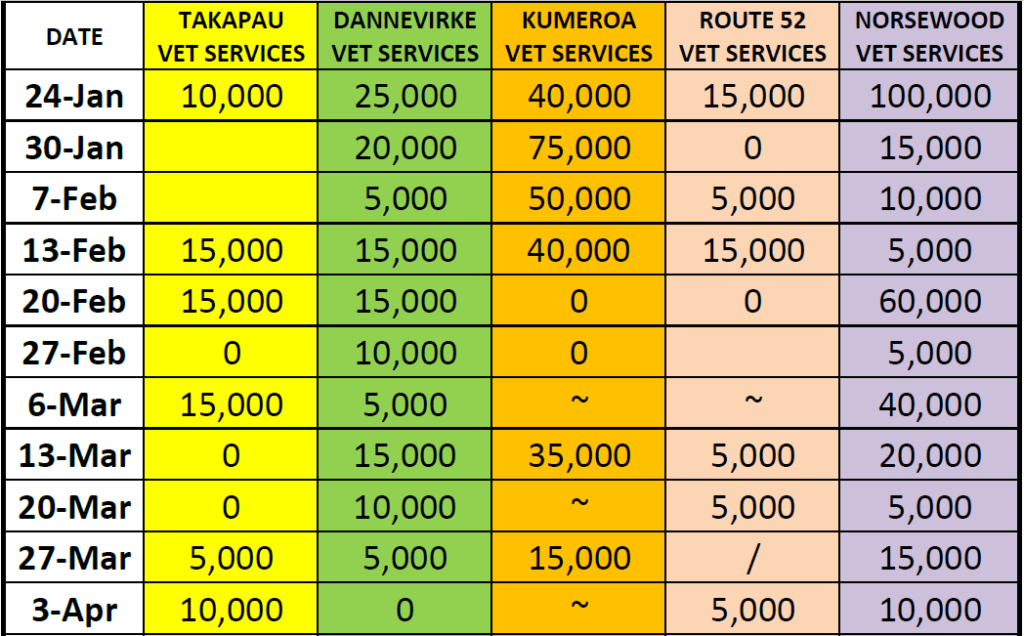 Weekly Monitor Results
This week's pasture spore counts – 10/02/2023
Hastings
This week's spore count is a little unusual, much like this season has been. For our monitor farms, the average spore count for this part of Hawke's Bay has reduced to just under 3000 spores per gram of pasture, much lower than the average of 20 500 this time last year.
However, we has seen a rise in the spore counts of non-monitor farms with the average at 11 500 spores per gram of pasture and Central Hawkes Bay's average has skyrocketed to 53 000. This week's hotspot was in the Pakipaki area at 30 000.
Spore counts are generally climbing in the North Island and you are welcome to bring in grass samples to assess the risk on your pastures. Now is a good time to avoid using ewes to clean up pasture, avoid topping paddocks which creates a greenhouse effect for spore germination and to ensure terminal rams on high risk properties have been treated with a Zinc bolus.
Waipukurau
Counts across CHB are now consistently in the "at risk" range. Cumulative counts of 600,000 are enough to cause clinical disease in sensitive animals, for example an average of 30,000 spores per gram daily for 3 weeks can be damaging. Counts of 60,000spg will take only 10 days to do the same damage. Now is the time to be seriously thinking about your prevention plan and getting valuable animals such as rams well protected.
This week's pasture spore counts – 03/02/2023
Spore counts are slowly creeping up this week with the average of our monitor farms with a positive count for this part of Hawke's Bay is at 6875 spores per gram of grass. This week's hot spot was at 25 000 in Eskdale, and a non-monitor farm recorded 10 000 in Raukawa. Central Hawkes Bay are reporting higher counts and with a little sunshine, we are expecting our counts to continue to rise. 
This week's pasture spore counts – 27/01/2023
Wide variation in spore counts this week and some concerning levels in CHB. 
Counts over 100,000 can cause damage in a little over a week and monitoring paddocks is a good idea to see where your farm is at. With a bit of sunshine drying out the region this week we are expecting spore counts to start rising.
If you are putting the ram out in the next few weeks consider treating rams and ewes with zinc capsules to protect the sheep in case spore counts rise during the mating period. This might help prevent poor scanning performance
This week's pasture spore counts – Week ending 20th January 
The facial eczema spore count has remained the same this week, equating to an average of about 1250 for the region. This week's hot spot was in Patoka at 10 000.
The wet weather does not seem to be letting up yet, but night time temperatures are warm enough for spores to grow and farmers should assess their risk individually.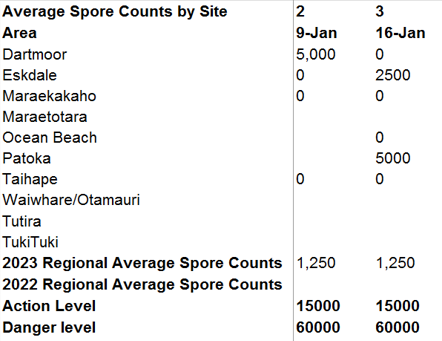 This week's pasture spore counts – Week ending 13th January 2023
For many in Hawkes Bay in clean up mode after the trail of destruction left by Cyclone Hale, facial eczema might be an afterthought this week. With plenty of dry matter and humid conditions, we are anticipating there might be some high spore counts as temperatures increase and have started monitoring the spore counts.
The majority of this week's spore counts were at zero, with only 1 monitor farm in Dartmoor recording a 10 000 spores per gram of grass in paddock, equating to an average of about 1250 for the region. Overall, spore counts in the North Island have remained low and monitoring will continue.
It's estimated facial eczema costs the industry around $200m annually
with animals suffering from liver and skin damage which contributes to ill-thrift, reduced fertifility, and reduced milk and meat production.
Prevention with careful planning and implementing a good management plan is the only method to avoid Facial Eczema (FE). 
We need to be using zinc treatment 2-3 weeks before the spore growth is in the danger zone for maximum protection. 
Being pro-active is key – start spore counting early! 
Zinc Bolus Service

For large mobs we have a conveyor available for zinc bolus, drench, vaccination and dip application.

For smaller numbers (>100) our technicians or a vet will come on site to administer the product.
Collecting a pasture sample 
Cut a handful of pasture 1cm above the ground. Sample at least 5 different places in the paddock, with each sample site ideally more than 10m apart. Collection from several sites allows for any variation in the paddock.

If there are slopes/hills within the paddock ensure samples are taken from the slopes as well as the flats.

Try not to include soil in the sample. Avoid parts of the paddock sheltered by hedges or trees.

We need roughly a bread bag full of grass to run the test. It is best to bring the pasture sample in on the same day as collection, however if this is not possible it will keep in the fridge overnight.
Facial Eczema Risk Monitor 2022