Regional average spore counts have increased again since last week, with counts having risen dramatically over the last 3 weeks. There are individual counts at dangerous levels in several areas (Taihape Road 120,000, Ocean Beach Road 140,000, Eskdale 100,000). Don't assume your area is safe just because we've had cooler nights, get some pasture samples tested!
Trend graph of 2021 Regional Average Spore Counts compared with last year's data.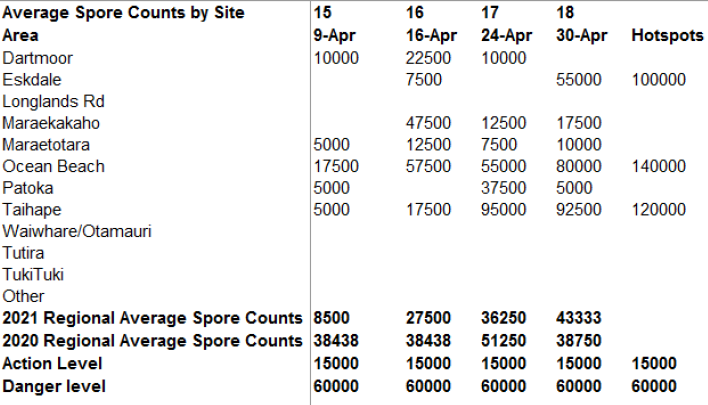 Quick tips
Avoid grazing below 1500 KgDm if possible as spores are concentrated in the bottom of the sward
Start supplementary feeding if spore counts are rising and covers are low, this essentially reduces total spore intake and offers the opportunity of applying Zinc Oxide to the feed
Zinc boluses offer good protection, though only last 6 weeks so may need re doing
Watch out for next week's report, the fine weather is continuing and even with the cooler nights the counts are still up there. Spore counts may not drop until the season changing southerly blows through or we get a decent frost.